CelebriDucks History & Value Guide 2019
In this second year of documenting the CelebriDuck line, working in conjunction with CelebriDucks' founder, Craig Wolfe, I offer an updated edition, containing a current listing of the ducks and numbers produced in 2018. We have expanded a few chapters and added details on a few of the new character lines produced this year. Since last year's edition, CelebriDucks has added new ducks, lines, and custom works that are gaining popularity worldwide.
In this authorized second edition, we present the history and comprehensive price guide to the CelebriDucks that have hatched over the years, through 2018. Many ducks and characters are retired, but there are countless editions still available for those looking to add to their rubber duck, movie star, and toy collections.  CelebriDucks are collected worldwide and the older retired and limited editions are highly sought after by collectors for their intricacy, quality, craftsmanship, and variety.
We hope you enjoy learning about the history of the company, learning what makes a CelebriDuck so special, and keeping up to date on new arrivals. The story you are about to read was taken from interview transcripts conducted with, and authorized by, the creator of these amazing characters, Mr. Craig Wolfe.
As you'll see, CelebriDucks started with an idea that could not be easily explained in words. Why, after all, would you want to make a rubber duck that looked like a person, anyway? But Craig had a deep love for iconic characters from movies and television, and he wanted to memorialize those characters in a brand new way.
 Available on Kindle at Amazon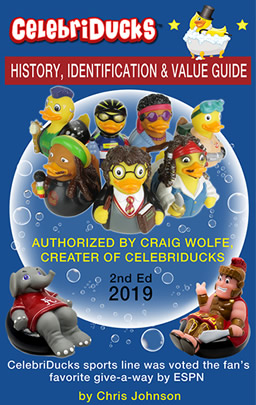 Available on Kindle at Amazon – or digital PDF Instant Download 
To get the ebook, paperback or a digital version:
Click here to buy from Amazon, Kindle and B&W paperback editions.
Click here 

to purchase the full-color paperback, print on demand on Amazon.

Click here 

to purchase the downloadable .PDF version from the Author's web site to download to your computer.
If you need any assistance to get your copy, please contact us.